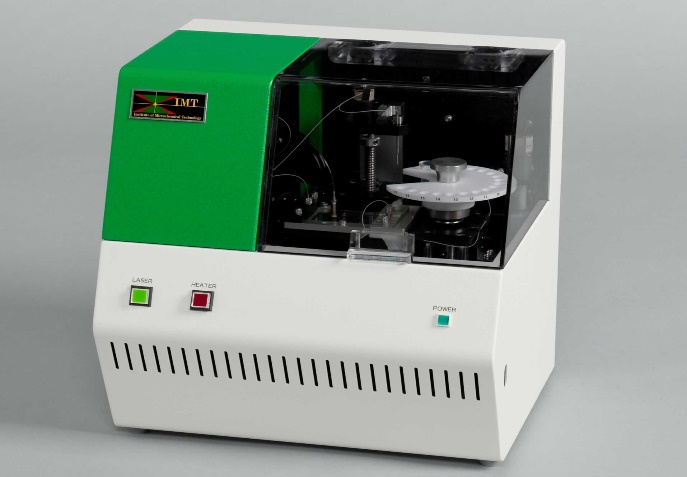 Equipped with a microchemical chip designed with the cutting-edge microfluidic technology and a highly sensitive thermal-lens microscope detector, this portable multipurpose automated immunoassay analyzer is suitable for sandwich assays, competitive binding assays, and many other immunoassays performed as part of physical and chemical experiments. The following features make the system a promising choice in various fields and settings:
Sample volumes down to 1 μL:
The microscopic detection capability minimizes wasted valuable samples.

Low running costs:
Only small amounts of commonly used reagents are required.

Speedy measurement as fast as 8 min/sample:
The reaction proceeds in a microscopic space, yielding the result quickly.

Ultrahigh sensitivity:
A thermal-lens microscope detector with a sensitivity of 3 * 10−8 Abs. allows for ultrahigh-sensitivity measurement.

Compact and lightweight:
The A4-footprint compact body with a weight of 10.5 kg can be moved easily from laboratory to laboratory.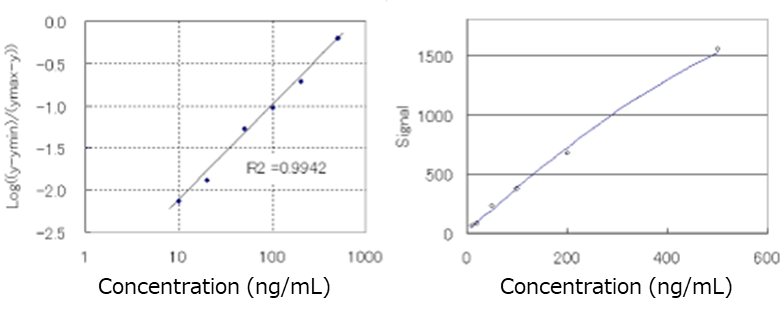 Example: Sandwich assay for CRP
(duration, 11 min/measurement; sample volume, 3 μL; HRP-labeled anti-CRP antibody, 0.1 μg/mL)

1.

Antibody-immobilized beads are dammed in a microscopic space created in a microchannel.

2.

Antigen-antibody and enzymatic reactions are performed on the beads.

3.

The thermal-lens microscope detector detects the product of the enzymatic reaction. According to the stop-flow process, the amount of the product is proportional to the length of time for which the beads are stopped.

4.

The data will be automatically analyzed by the bundled software.

The beads are disposable. So there is no worry about a carry-over.

The sample and reagents are not diluted before being introduced into the chip. The reaction is highly efficient.

Running buffer effectively prevents the piping from being contaminated.

Sandwich, competitive binding, and many other immunoassays are supported. The user can choose from methods of different natures according to the purpose of the assay.

■

Measurement principles

Thermal-lens detection (excitation laser, 635 nm; probe laser, 785 nm)
Enzymatic immunoassay (microchip immunoassay)

■

Lower limit of detection
3×10-8Abs. (Ni complex aqueous solution)

■

Automation
Automatic sample delivery and measurement (12 samples)

■

Operation
PC-controlled
■

Size

275 (W) mm × 245 (L) mm × 300 (H) mm

■

Weight
10.5kg

■

Power supply/
Power consumption
100V/24W

■

Volume of sample introduced
1~20μL(minimum sample volume required, 5μL)

■

Duration of measurement
≥ 8 min/sample

■

Precision of measurement
CV ≤ 8%

■

Waste volume
200μL / sample